This is Giclee Edition #1 of 50.
Aviation artist William Phillips was the Grand Canyon National Parks official artist in residence a few years ago.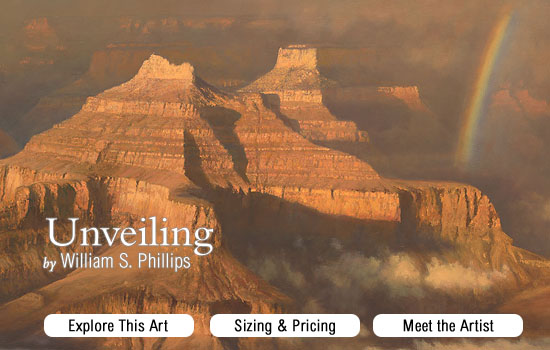 Unveiling by William S. Phillips MASTERWORK CANVAS EDITION - Not Framed
Edition number 1/50.
Image size: 48"w x 24"h. on giclee canvas.
Limited Edition of: 50 signed and numbered.
Issue price $950.00 | ships rolled.
Bills' ongoing love affair with the Grand Canyon began with a postcard sent to him by his father. Bill has hiked, rafted and painted its majesty for more than two decades, always challenged by its grandeur. In all seasons, he has sketched and documented the canyon's changeable moods, it colors, light and shadows, through unimaginable heat at its depths to blizzards on its rim. Bill's depictions of the textures, shapes and lines of the multi-hued canyon have been enhanced by numerous flights over and through this remarkable natural wonder. Experience has strengthened his talents as a landscapist, which, in turn, has enriched his aviation art.