"Best gallery in the area"
Ford Smith Artist, Atlanta Georgia | 5 of 5 stars Reviewed on Trip Advisor April 19, 2015.
Rick Mullen is one of the nicest gallery owners I have ever encountered. His selection of art is the best in this part of the country. I always look forward to my time at Ashley's.
About Us

Our family business has been selling artwork since 1973 from this same location. We will strive to help you in the present situation and in the future.
Ashley's is a former Greenwich Workshop National Gallery of the Year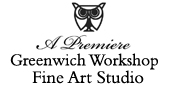 Ashley's Art Gallery has been on of the Greenwich Workshop's top galleries since 1997 because we try hard, we take care of our clients and offer them an unique experience by providing them with quality time with some of the most gifted artists painting today.